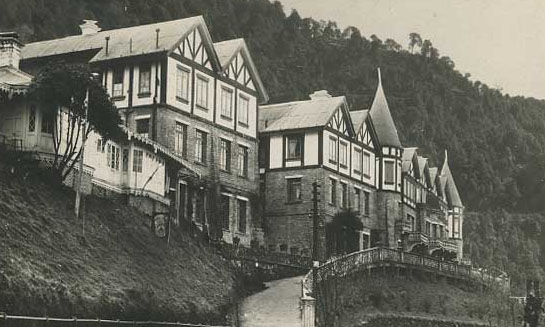 Darjeeling also known as the Land of the thunderbolt, home of Mount Everest and the mighty Kanchenjunga, queen of hills and once the summer capital of the British India, has many history attached to it. But today, I am not writing to tell you the history of my town.
There are many historic buildings that has stood the test of time and is today on verge of being destroyed. One such building is Hotel Mount Everest, which stands magnificently on the mountain slopes of Darjeeling town. As a kid, I remember seeing the pointed roof of this huge castle like building on my way to Green Lawns School. I often wondered back then what was it. This structure was so majestically huge that I could even see it after I reached home.
So, when I heard and read about this building being demolished, I wondered, why my people are making so much noise about this old ragged building. How does it matter to anyone if this one survives, or, some bulldozer crushes it to the ground? Hence I started my "Google" research to know more about it.
After reading the history of this building, it did not take me long to understand that it is indeed a heritage for my town. It is an iconic building which has stood tall for nearly 100 years!! And if I may say so, it is also a heritage for our country – India.
This hotel was built in 1914 by Arathoon Stephen, who is also known for his landmark heritage buildings in Kolkata – The Grand Hotel, Stephen Court, Stephen House, The Empire Theater and Queens Mansion (which houses the Armenian Club of Calcutta), amongst others. Back then, Mr. Stephen called this 100 room hotel ,The Darjeeling Family Hotel. It was later leased out to the Oberoi Group (Eastern India Hotels) for 100 years in 1950, who rechristened it to Mount Everest Hotel, Darjeeling as it is known till date. They ran the Mount Everest Hotel successfully for more than 20 years. It was closed down completely in 1984 after a devastating fire ravaged the building in 1978.
In the book "Concise History of Darjeeling District since 1835" by EC Dozey , Mount  Everest Hotel has been described as "the imposing Hotel,a palatial building standing on the Auckland Road". This hotel was designed by Mr. Stephen Wilkinson, the architect, and was completed on October 12, 1915. It took four lakhs to erect this hotel, which was a huge sum of money back in those days.
A special feature of the building was that there were no arches in it. Instead, flat lintels made of ferro-concrete were constructed, because they were fracture resistant, keeping in view, the land scape of Darjeeling and its proneness to natural disasters. To ensure stability of the site, the hillside was retained by specially designed revetment and a system of cantilevering by which the weight of the superstructure is borne off to the back of the site.
The interiors were in Old English style (half-timber) with the first two stories in rubble masonry and the attic in half-timber. There were 3 blocks with two observation towers through which one could view the entire town as well as the majestic snow peaks.
Because of its scenic beauty, movies like , Aradhana, Anurodh, Barsaat Ki Ek Raat and Do Anjaane have also been filmed here .During such filming Arjun Pradhan spent many evenings at the hotel, shooting celebrities as they watched the local artistes perform folk dances. He remembers Dilip Kumar, Dev Anand, Asha Parekh, Kishore Kumar, Rajesh Khanna and Shammi Kapoor among a galaxy of stars who stayed at the hotel. Incidentally, Md Ali Jinnah had also been a guest in this hotel in the year 1917.
With so much history behind this dwindling building, I seriously wonder why I had never taken more time earlier to look closely at one of the iconic building in my own town.
I read in TOI that Bharat Agriculture had acquired this property from Oberoi for Rs.11 crore. Birj Mohan Garg, one of the four new owners of the 4.5-acre prime property, said "a top-end housing complex with modern facilities will come up on 3 acres, leaving the remaining 1.5 acre for a mid-sized hotel".
As per Mr. Garg, "The hotel has been lying unused for over three decades and is in a terrible shape. Restoring it will not only be challenging, it will also entail huge investment that may make the project unviable. Though we have not excluded the option, it will be more practical to build a new hotel while freeing the rest of the property for an upscale housing complex with swimming pool, gymnasium and other modern facilities".
When I read this, my heart sank, as I imagined a piece of history of my town lost behind the pomp and show of the snobbish society. A heritage being dismantled to build swimming pool and gymnasium!! I am sure there is no dearth of land where Mr. Garg and his associates can build his pools and houses to accommodate the high-class friends and acquaintance. But how many such historic places does Darjeeling have. I wonder, how many of us would have such a privilege of witnessing architecture from different millennium in our town. Landmark buildings like these are vital part of our cultural background and it is important that we preserve our historic heritage.
For a tourist dependent economy like Darjeeling, it is even more essential that we preserve every small piece of such architectural buildings and monuments since they are main attractors for tourist. It represents different eras and the spirit of the place and defines our community's architectural profile and heritage. Without these tangible proofs of the past, history will be difficult to understand and recall.
How can we preserve such historic buildings, how and what role our Government will or will not play in preserving such place of historic value is yet to be seen. Will the efforts of our people, who have once again united to save this piece of history through their petition to the Honorable Governor of West Bengal is also yet to be seen.
If you think it deserves to be saved and preserved, I urge you to sign the petition below: https://goo.gl/tHd78F
There is no denying the fact that The Mount Everest Hotel is a historic building in Darjeeling and an important part of our rich heritage. It has witnessed the glorious past of Darjeeling, when the British ruled India and even when they left India. It has seen through the heartbreaking bloodshed and the sacrifice of our Gurkha Brothers during the Gorkhaland revolution and still stands tall as a symbol of the forgotten identity fighting to be recognized, just like the people of its hills. It has seen the glory of the riches as well as the agony of the ragged and it still stands staunchly tall as a reminder of the pomp and glory of the days gone by. And as its faded white figure diminishes behind the fogs of the evening shadows, it echoes with the memories of past glory, as if ,calling out to its people to help it restore its forgotten history.
Of course we can either dismiss this thought by saying it is just another 100-year-old building, India has many such historic monuments and buildings. Or we can choose to look at it as an architectural landmark, which deserves heritage listing just for the fact, that, for past 100 years it has stood tall, unshakable and majestic, even in all its ruin and ignored state.
Reference: