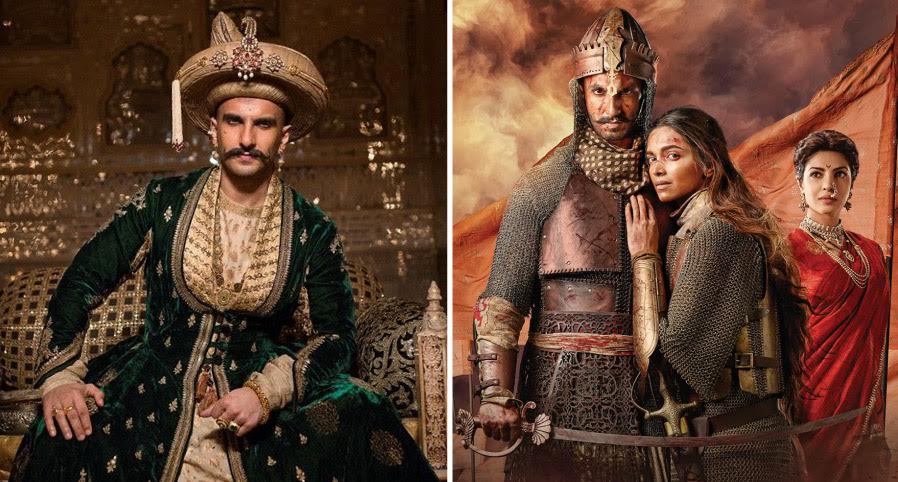 "Kiski talvaar pe sar rakhu ye bata do mujhe
Ishq karna agar khata hai to saza do mujhe.."
Once in few years Mr. Sanjay Leela Bhansali (SLB) allows us to have a sneak peek into his world; a world that is naturally woven by rich feelings and emotions. The films that he chooses to make speak volumes of the romanticism and emotional intelligence that each cell of him is made up of.
Bajirao Mastani is an emblematic of unconditional love, something that has been the key element of all his films. It is set in an era when love used to happen unlike today, when even love is arranged! It is less of a movie and more of a "poetry in motion". At times I had a tough time to apprehend that whether it was poetry that stimulated the emotions or emotions that evoked the poetry. Nevertheless the effect was rare and intoxicating as well. The characters Bajirao, Mastani, Kashibai and others, that were etched in history as early as 17th century came into cinematic being holding Sanjay's hands and what a grand entry they made! The extravagant and "larger than life" sets of the film especially the "Shaniwar wada", the "Mastanimahal" and the exquisite war-fields, as well as the "drop dead gorgeous" costumes – they all carried signature of grandeur. As far as the choice of his hand-picked actors for the pivotal roles is concerned, it is the USP of his epic film.
The performances, that each and every actor delivered, epitomized perfection and brilliance. Deepika was no less than a sculpted beauty and every frame having her was rendered serene and picturesque. Not only she looked her best, but she gave her "the best performance" till date. The elan and effortlessness way, in which she carried Mastani on her shoulders, vouched for the fact that no one else would have done justice to this character. The agonizing love that Mastani had for her Bajirao, oozed out of every expression of hers. Ranveer Singh was brilliant and I was simply awestruck by his stupendous performance. Starting from his body language and confidence as a warrior to his gaping at the courage and beauty of Mastani, lending the character a human touch, he was just flawless. At times the thin line between Ranveer, the actor and Bajirao, the character got blurred while at some others, it did vanish. This indeed was his success. It may raise eyebrows of many while I declare this, but he deserves the irritating and infamous attitude that he always dons. Priyanka Chopra, though had nothing much to do, still did a great job as the betrayed wife of Bajirao. All over again she proved that a meatier role like this is enough for her to threaten her contemporary actors. The surprise package of the film was undoubtedly Milind Soman and the underrated actress Tanvi Azmi. They surely will give a tough competition to the actors for the best supporting actor/actress in all the legitimate award functions.
Something which bothered me throughout the film was the augmentation of the love flames between Bajirao and Mastani. A love story, that went on to create history, seemed more of a caprice to me in the film rather than a gradual transition from attraction to intense true love. I would have enjoyed even more, had he tried to show how it built up. But as the film stepped into the climax, I got so immersed into the imaginative prowess of SLB, that it was only admiration that I had for him more than the film. This man is one cinematic genius, more for the highly poetic and creative ending that he crafted, than anything else. They say, "all's well that ends well" and I absolutely agree to it. It made me leave the theatre in a mixed state of awe and hallucination.
Yes, the music could have been better but it camouflaged well with the situations and emotions owing to its intelligent and appropriate application. Each and every scene of the film carried signature of the creative juices that flowed in the mind of Mr. Sanjay Leela Bhansali and not everyone would be able to fathom them. And for people, who are unable to perceive his creative notions and are busy criticizing him on the grounds of distorting historical facts, Breaking News! It was very well written at the beginning of the film as a "Disclaimer that it was based on the true story and not everything pertained to the true historical facts".