We subject our hair to all kinds of abuse like blow dryers, irons and styling products. The pollution added to all these only worsens the situation. All this leads to premature graying and hair loss. In such scenario, a little extra care and pampering go a long way. I love to do simple doable at home kind of things to keep my hair healthy. Hot oil massage at least twice a week and hair pack to nourish and rejuvenate my hair once in 10-15 days is a must.  I know with our busy schedule it becomes next to impossible to take the pain of making our hair pack at home. But readymade hair pack that too herbal could be a real blessing. Yes, that is what exactly Biotique's Bio-Musk Root is!!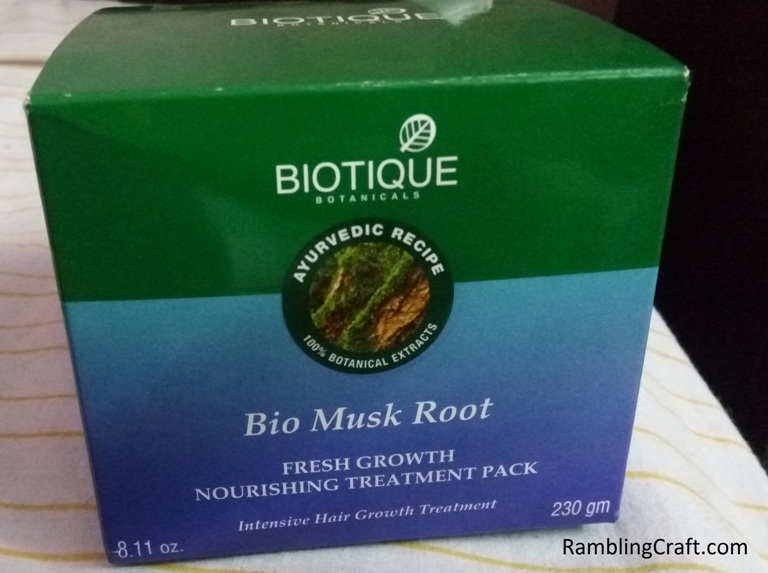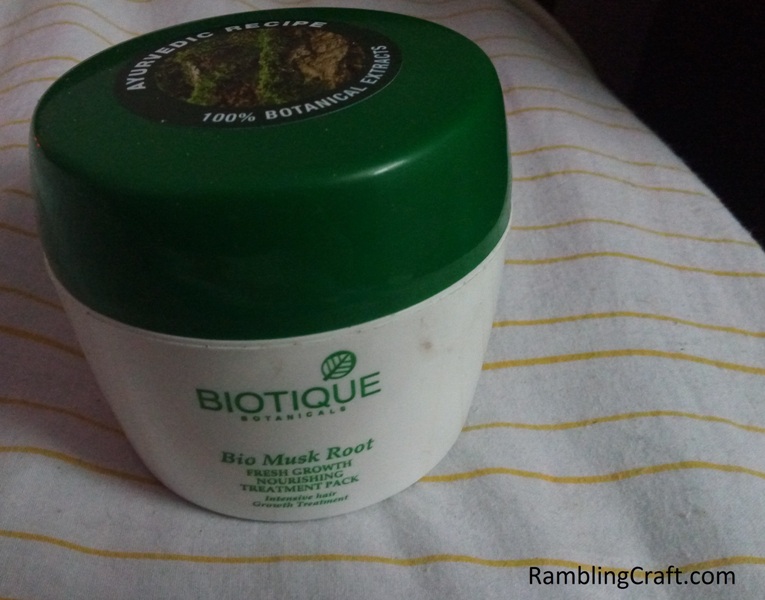 What is it?
Biotique claims that Musk Root has been called "the divine herb", found deep in the Himalayas and used for centuries to promote hair growth. This nourishing treatment pack is a blend of pure musk root, bael, liquorice and nutmeg to invigorate and rejuvenate the scalp, add strength to every strand and promote growth for longer, thicker, stronger hair.
The list of ingredients in Biotique's Bio-Musk Root hair pack: Mulethi Root-9.0%, Amla Fruit-15.0%,Harar Fruit-15.0%,Jaiphal Seeds-2.0%,Bael Phal-5.0%,Jatamansi Root-5.0%, Bhringraj Plant-10.0%,Kikar Gond-4.0%,Neem Brak-1.5%,Purified Water-Q.S.
As per my Google Baba research the ingredients used in this hair pack are natural and excellent for the hair.  I could find pretty satisfying information for six out of the nine ingredients. Phewww !!
The extract of jatamansi root or muskroot oil is used for the growth of hair and promotes smooth, silky and healthy hair. Bhringaraj powder has been used in India since century to prevent hair loss and discoloration, to promote hair growth and improve overall hair health. Amla, known for its antiseptic property, helps to prevent scalp infections, hair loss, and premature graying. It is also known to add luster and shine to hair. Jaiphal tail is excellent for hair health and makes hair strong and lustrous.  Mulethi is a mollifying herb and allows absorption of vital nutrients into the scalp by opening the pores. When used with certain other ingredients it also helps in promoting black shiny hair besides treating hair loss. Neem is known for its properties to help get rid of dandruff, prevent hair loss ,keeps scalp healthy as well to deeply moisturize the hair
How to use it?
Biotique's Bio-Musk Root hair pack is a thick almost black colored paste. The consistency of this pack is similar to that of Dabur Chawanprash .The texture of the paste is a bit rough (I guess it is because of the herbal ingredients it contains).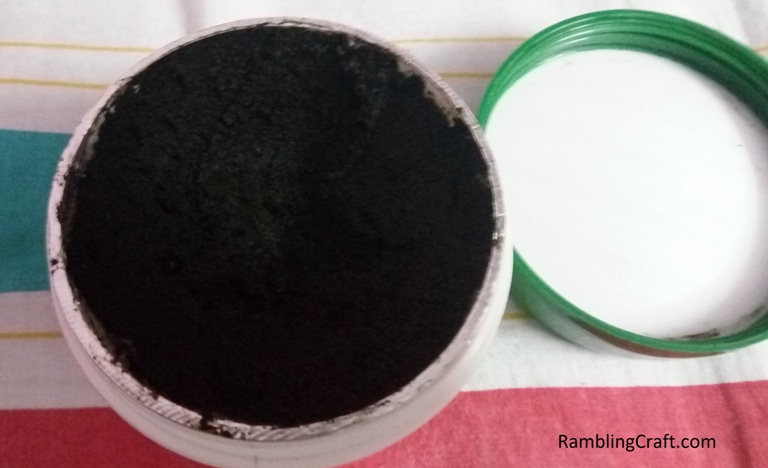 The product comes with the instruction to mix the paste in egg or yogurt. I tried mixing it with both egg and yogurt, and I must say I was quite happy with the results. I have medium hair length so I used two teaspoons of paste, in egg white (two) and half a bowl (small) of yogurt. The pack does have a strong herbal smell not quite like that of Henna but almost similar to it.
Once you have mixed the paste or pack in either egg white or yogurt, in my case both, apply the pack liberally on your scalp and hair. Cover this with a shower cap and keep it for 30 minutes and maximum for an hour. If you want to give some steaming effects, I suggest that you wrap your hair with a thin t-shirt or scarf, which you no longer use and then dip a towel in hot water and wring excess water out of it  wrap the towel over the t-shirt. This will prevent your towel from getting dirty. After 30 to 60 minutes, wash off the pack with lukewarm water and shampoo your hair. There is absolutely no need to use conditioner when using this pack. Let your hair dry naturally for best results.
My Experience!!
I absolutely loved it! The smell of the products stayed on my hair for next two days after I treated my hair with this pack, and I am not complaining. The smell is purely herbal, but I am not sure if all of you would also like the smell.
What I also liked about Biotique's Bio-Musk Root pack is that it gives you that freedom of mixing other ingredients before applying it on your hair. I have used a hair pack by Jovees  earlier, and though I liked that too , the biggest problem was its consistency and I could not mix it with anything.  So, this one was a big relief. Also, I think, this one will last me longer than Jovees which I think also comes in almost the same quantity.
The packaging comes in a plastic tub hence it is easy to scoop out a teaspoon of the product. You will also have a fair idea when you are about to run out of it and need to restock.
My hair was definitely shiner and bouncy after using this product. Even though I had not used conditioner (and I never ever, not use conditioner post washing my hair), I could run my fingers through my hair without feeling any tangles.
My Recommendation
Both thumbs up for this product.  The product is not at all expensive. The quantity is 230 grams which can last up to 4-5 uses for a medium hair length. Which for the price of Rs.230 is absolutely a must have.
Biotique's Bio-Musk Root pack is for all hair types and it nourishing and moisturizes the hair. I have oily hair and my hair generally becomes very oily the very next day. But with this product, I could feel my hair still bouncy the next day as well.
Biotique's products are known for their quality and ayurvedic properties. Hence this product is marvelous presuming all the ingredients mentioned in the list are actually there and hundred percent pure.
Biotique's Bio-Musk Root pack will definitely make a little mess in the bathroom while washing it off. But don't let that that stop you from buying this product.
Lastly, without a doubt, this is a great product, and I completely recommend to anyone without a second thought. However, it is important to understand that a healthy lifestyle and eating habit are also vital for a healthy hair. Of course, this product will definitely nourish the hair but nothing can substitute the benefits of healthy food.
If you are looking for a hair mask and have been confused, hope this has helped you in some way. Would love to hear your experiences.
References: