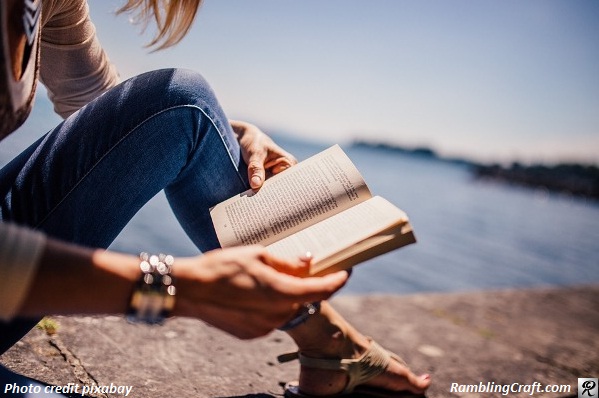 Readability score
This post is about few things I have learned in this past few months of blogging. You want as many people to read your blog and the traffic to your blog to increase. Initially, I started by sending WhatsApp messages and posting it on my Facebook. Of course, this does help, but this is not a sustainable method. Hence, it is important to understand what readability means in the internet world.
Two important words that I have learned in these past few months –  Keyword & readability.
In this blog, I will try to explain what readability means and why it is important.
There are many factors that will help you drive traffic to your page.
Google decides the rankings of blogs on many factors, one such factor is readability.
First of all, we must understand that there is a difference between print writing and blog writing. In print media, a good writer is someone who has a good command over English and an original writing style. However, in the internet world, the way you write the blog makes a lot of difference.  It is an important part of on-page SEO and there is something called Readability SEO.
Google uses the readability levels of the post in your blog to rank your website. Hence always avoid a poor readability level.
What is readability level?

You can calculate the readability level of the article in many ways. Currently, I am using Yoast SEO. It calculates the readability score using Flesch Reading Ease test. It measures the textual easiness of a text in English. The score for this article is 72.6 which is considered fairly easy to read.
The higher the score, easier is the text to read. Readability score of 90-100 means an 11-year old student can understand the text on an average. A score of 60 – 70 means students between the age group of 13-15 years can comprehend the meaning. A score of 0 – 30 indicates it is best understood by university graduates.
Importance of H1, H2, and H3 tags in WordPress Posts for a good readability score
The heading of the articles tells the readers what it is all about. It works like a synopsis of the entire article. The reader is able to decide at a glance if the article is useful for them or not. Hence it is important to have headings and sub-heading in your articles.
Part of the reason why these tags are used is to make it easy for the readers to scan the page and part of it is to help your SEO.
The reason these tags are important is because it tells Google what your page is all about. So do add some keywords in you H1, H2 H3 tags.
How to add and use H1, H2, H3 tags in Wordpress
The left side of your blog page will have the option for H1 H2 H3 tags. See the below picture for more clarity.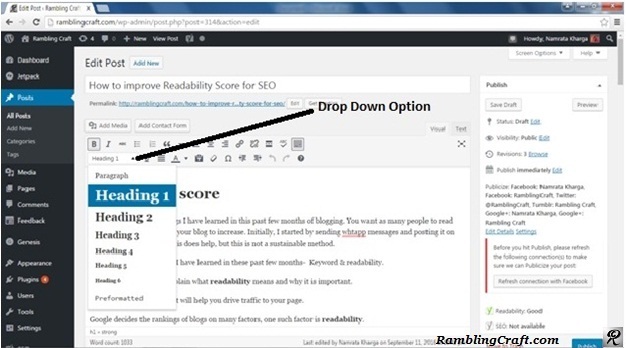 You can choose your tag options from the drop down menu. There are 8 options:  Paragraph,Heading 1,Heading 2,Heading 3,Heading 4,Heading 5,Heading 6  and Preformatted.
It is also important to understand how to use these tags. H1 tag in WordPress is the title of the blog. H1 tag is the HTML tag. The title of a page automatically has H1 tag. This is for most themes. If you are not sure if your theme automatically has the H1 tag on the titles you can check the source code. Make sure you use only one H1 tag per page. An H2 tag is the sub-heading and H3 tag is the sub- category of the sub-heading.
For example, the title of this article (How to improve Readability Score for SEO) is H1 tag. Other headings are H2 tag. This particular heading (How to add and use H1 H2 H3 tags WordPress) is H3 tag since it is a sub-category of the heading.
It is also important to keep in mind that the number of words following each of the headings and subheadings do not exceed 300 for a good readability.
Keep your sentences Short
Another factor that will make reading your articles easy is the length of your sentences. The longer the sentence, the more difficult it is to comprehend. Try to keep your sentences as short as possible. An ideal number of words per sentence is 20. Try to write your sentences within these many words.
Use short paragraphs
Short paragraphs are easy to read and easy to understand. Generally, readers skip long paragraphs. Make sure the paragraphs are as short and comprehensive as possible. Remember readers are not there to read flowery words but are looking for information. The more value add you are able to do with fewer exotic words the better.
Also keep in mind the recommended number of words per paragraph is 150 for a  good readability score. So use these number of words to give valuable information.
Use active voice over passive voice
In the English language, there are different kinds of voices in a sentence. When a sentence is in passive voice it is much more difficult to understand than a sentence in active voice.  Sentences written in active voice are much short and hence easy to understand.
The lesser the passive voice the higher the readability score will be.
Article written in active voice have a better readability score. In a sentence with active voice, the subject performs the action.
Example: Henry ate six apple at lunch. Here the subject is Henry and action or verb is ate.
The same sentence written in passive voice would be : At lunch, six apple were eaten by Henry.
Recommended use of passive voice in a blog is around 9-10 percent.
English is not our mother tongue and nobody expects us to be perfect. There are a lot of online helps you can find to understand the difference between a passive and active sentence. I find onlinegrammar.com.au  quite helpful. Of course, there are many such online help you can find.
Use transition words
As per Wikipedia, Transitions are words or phrases that show the relationship between paragraphs or sections of a text or speech.
It provides a connection between ideas, sentences and paragraphs. Transitions help to make a piece of writing flow better. They can turn disconnected pieces of ideas into a unified whole and prevent a reader from getting lost in the reading. (Credit – http://literarydevices.net/transition/ )
Few example of transition words  commonly used are hence, however, but, namely, also, etc.
Minimum of 30 percent use of transition words in your blog is good for the readability. Transition words will help the readers make a connection between sentences and paragraphs.
To conclude I would say KISS – Keep it simple stupid. Use shorter sentences and simple easy to understand words. Keep your paragraphs short and sweet. Besides this, I would highly recommend trying www.Hemingwayapp.com for editing your write-ups. It's a great app and literally helps you with identifying voices in the sentences. It also tells you if your sentences are too long and difficult to understand and lot more.
Grammarly  is another app that I simply love. It is easy to use and helps you with those stupid mistakes of punctuations and grammar. Both these app are absolutely free.
Do try out these tips and let me know if it has been helpful. I would love to know how it is working for you.